Plato Small Bites Salmon Dog Treats - 6 Oz Bag
Key Benefits :

HEALTHY SNACK – Our treats have NO added sugars, artificial preservatives, by-products, artificial colors, protein-meals, soy, wheat, corn, fillers, or freeze-drying




INGREDIENTS – Best all natural pet treat on the market. Plato uses the highest percent of quality, protein on the market. Treats are 90% pure meat. We procure all ingredients straight from the source. This guarantees Plato pet treats is the most healthy dog treat made in the USA




BENEFITS & RECOMMENDATIONS– Helps digestion, excellent source of Iron, omega 3, 6, fatt acids, veggies.This dog snack is grain free, Great for small dogs and training




A TREAT FOR SENSITIVE PETS - These single-source novel protein treats are slow roasted in our very own US facility- especially good for dogs with skin issues, allergies, and food sensitivities




GREAT FOR TRAINING – Dogs are amazing, but sometimes they need a little training. One of the best ways to motivate your dog or puppy is with a treat that THEY LOVE! Canines love Plato Dog Treats!



View full details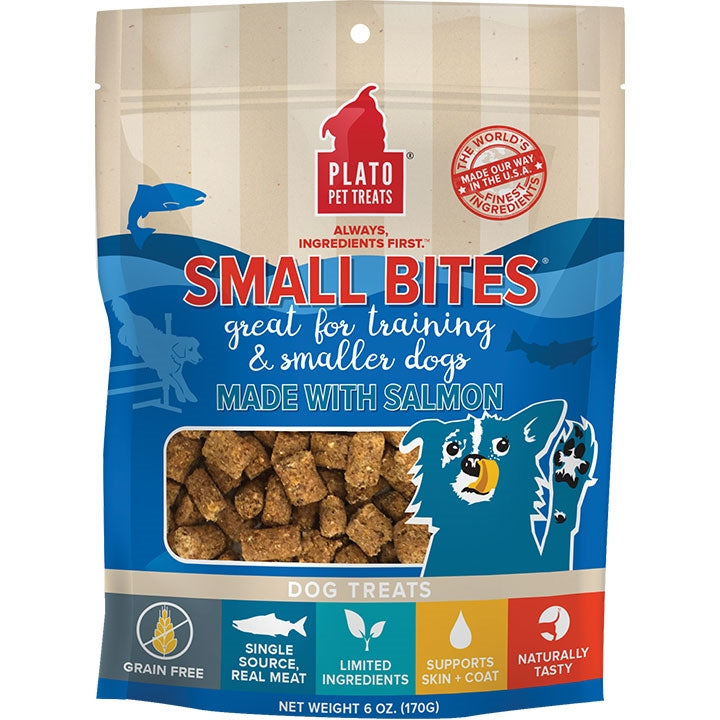 <b>Plato</b> Small Bites Salmon Dog Treats - 6 Oz Bag