Royal Canin Feline Health Nutrition Adult Instinctive Thin Slices in Gravy Canned Cat Food
About Royal Canin:



The right diet can be a powerful tool.


At Royal Canin, our expert nutritionists and veterinarians create great-tasting,


therapeutic diets to help your veterinarian treat a wide range of health challenges.


From skin health on the outside to urinary and GI tract health on the inside,


we have balanced formulas to meet your cat's nutritional needs and the flavors to ensure they're delighted to eat them.


<table>
<tbody>
<tr>
<th>Crude Protein (min)</th>
<td>10.5%</td>
</tr>
<tr>
<th>Crude Fat (min)</th>
<td>1.9%</td>
</tr>
<tr>
<th>Crude Fiber (max)</th>
<td>1.8%</td>
</tr>
<tr>
<th>Moisture (max)</th>
<td>81.5%</td>
</tr>
</tbody>
</table>
<table><caption>Recommended Daily Feeding Portion</caption>
<thead>
<tr>
<th>Weight</th>
<th>Low Activity</th>
<th>Medium Activity</th>
<th>High Activity</th>
</tr>
</thead>
<tbody>
<tr>
<td>4.4?lb?<span class="metric">(2?kg)</span></td>
<td>1???cans?<span class="metric">(110?g)</span></td>
<td>1???cans?<span class="metric">(140?g)</span></td>
<td>2?cans?<span class="metric">(165?g)</span></td>
</tr>
<tr>
<td>6.6?lb?<span class="metric">(3?kg)</span></td>
<td>1???cans?<span class="metric">(150?g)</span></td>
<td>2???cans?<span class="metric">(185?g)</span></td>
<td>2???cans?<span class="metric">(225?g)</span></td>
</tr>
<tr>
<td>8.8?lb?<span class="metric">(4?kg)</span></td>
<td>2???cans?<span class="metric">(185?g)</span></td>
<td>2???cans?<span class="metric">(230?g)</span></td>
<td>3???cans?<span class="metric">(275?g)</span></td>
</tr>
<tr>
<td>11?lb?<span class="metric">(5?kg)</span></td>
<td>2???cans?<span class="metric">(215?g)</span></td>
<td>3???cans?<span class="metric">(270?g)</span></td>
<td>3???cans?<span class="metric">(320?g)</span></td>
</tr>
<tr>
<td>13.2?lb?<span class="metric">(6?kg)</span></td>
<td>3?cans?<span class="metric">(245?g)</span></td>
<td>3???cans?<span class="metric">(305?g)</span></td>
<td>4???cans?<span class="metric">(365?g)</span></td>
</tr>
<tr>
<td>15.4?lb?<span class="metric">(7?kg)</span></td>
<td>3???cans?<span class="metric">(270?g)</span></td>
<td>4?cans?<span class="metric">(340?g)</span></td>
<td>4???cans?<span class="metric">(410?g)</span></td>
</tr>
<tr>
<td>17.6?lb?<span class="metric">(8?kg)</span></td>
<td>3???cans?<span class="metric">(300?g)</span></td>
<td>4???cans?<span class="metric">(375?g)</span></td>
<td>5???cans?<span class="metric">(450?g)</span></td>
</tr>
<tr>
<td>19.8?lb?<span class="metric">(9?kg)</span></td>
<td>3???cans?<span class="metric">(325?g)</span></td>
<td>4???cans?<span class="metric">(405?g)</span></td>
<td>5???cans?<span class="metric">(490?g)</span></td>
</tr>
<tr>
<td>22?lb?(10?kg)</td>
<td>4?cans?(350?g)</td>
<td>5???cans?(440?g)</td>
<td>6???cans?(525?g)</td>
</tr>
</tbody>
<tfoot>
<tr>
<td>1?cup = 8?fluid?ounces = 85?grams</td>
</tr>
</tfoot>
</table>
View full details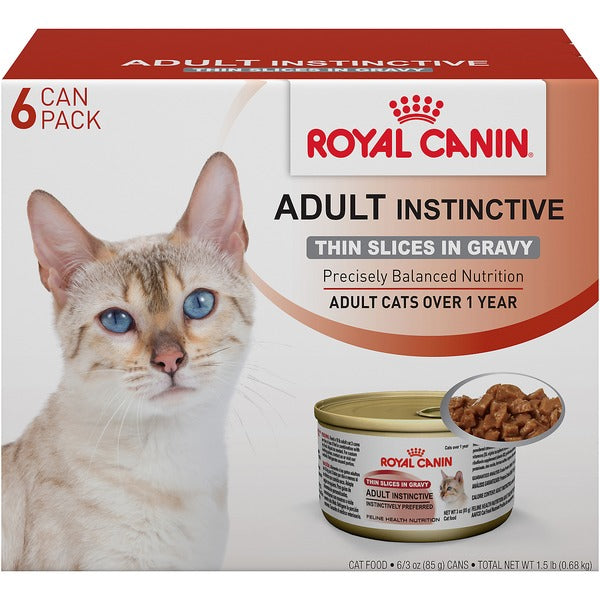 <b>Royal Canin</b> Feline Health Nutrition Adult Instinctive Thin Slices in Gravy Canned Cat Food