Zignature Limited Ingredient Formula Grain-Free Pork Dry Dog Food
About Zignature:

We use a limited ingredient formula because in most cases simple is best. Zignature® is formulated to serve your canine companion's needs by delivering the highest quality, well balanced diets. Our limited ingredient formula uses No Potatoes, No Grain, No Chicken, No Eggs, No Glutens, No Tapioca, No Corn, & No Soy. Our Single Animal Protein Formulas are extremely palatable, encouraging a healthy appetite and providing high-quality protein for strong muscles.

Our Pork Formula is a high protein dog food, as pork can have a protein content as high as 89%. As a source of complete proteins, pork is the healthiest dog food, providing a healthy amino acid profile. Pork is also rich in thiamine, making it the best dog food alternative to other dog food. To balance out the naturally rich vitamins and minerals in pork, we've made this formula grain free to provide a hypoallergenic dog food for your pup. The healthiest pet food is a limited ingredient dog food that's extremely palatable and delicious.

Key Benefits:




This limited ingredient dog food is low in saturated fat, rich in Selenium, Riboflavin, and Phosphorus.



Made from sustainably-sourced US Pork, which is a rich dietary source of protein.


Rich in thiamin, one of the B-vitamins that plays an essential role in various body functions.



Contains no Corn, Wheat, Soy, Dairy, or Chicken, Chicken Eggs, or Chicken By-Products.




Zignature dog food is also balanced with fruits and vegetables to provide your pup with powerful antioxidants and fiber-rich low-glycemic carbohydrates, making our Turkey Formula healthy food for your pooch.













<strong>Ingredients</strong>
Pork, Pork Meal, Peas, Pea Flour, Chickpeas, Pork Fat, Natural Flavors, Flaxseed, Choline Chloride, Salt, Vitamins (Vitamin A Acetate, Vitamin D3 Supplement, Vitamin E Supplement, Niacin Supplement, D-Calcium Pantothenate, Thiamine Mononitrate, Pyridoxine Hydrochloride, Riboflavin Supplement, Folic Acid, Vitamin B12 Supplement), Minerals (Zinc Proteinate, Iron Proteinate, Copper Proteinate, Manganese Proteinate, Sodium Selenite, Calcium Iodate), Preserved With Mixed Tocopherols.
<table>
<thead>
<tr>
<th colspan="2">Guaranteed Analysis</th>
</tr>
</thead>
<tbody>
<tr>
<td>CRUDE PROTEIN</td>
<td>31.0% min</td>
</tr>
<tr>
<td>CRUDE FAT</td>
<td>18.0% min</td>
</tr>
<tr>
<td>CRUDE FIBER</td>
<td>4.0% max</td>
</tr>
<tr>
<td>MOISTURE</td>
<td>10.0% max</td>
</tr>
<tr>
<td>CALCIUM</td>
<td>1.5% min</td>
</tr>
<tr>
<td>PHOSPHOROUS</td>
<td>1.0% min</td>
</tr>
<tr>
<td>OMEGA-6 FATTY ACIDS</td>
<td>3.0% min</td>
</tr>
<tr>
<td>OMEGA-3 FATTY ACIDS</td>
<td>0.45% min</td>
</tr>
</tbody>
</table>
&nbsp;
<strong>Feeding Instructions</strong>
<table>
<thead>
<tr>
<th>Weight</th>
<th>Daily Feeding (cup)</th>
</tr>
</thead>
<tbody>
<tr>
<td>10 LBS OR LESS</td>
<td>1/4 - 2/3</td>
</tr>
<tr>
<td>10 - 20 LBS</td>
<td>2/3 - 1</td>
</tr>
<tr>
<td>20 - 30 LBS</td>
<td>1 - 1 2/5</td>
</tr>
<tr>
<td>30 - 40 LBS</td>
<td>1 2/5 - 1 2/3</td>
</tr>
<tr>
<td>40 - 60 LBS</td>
<td>1 2/3 - 2 1/4</td>
</tr>
<tr>
<td>60 - 80 LBS</td>
<td>2 1/4 - 2 2/3</td>
</tr>
<tr>
<td>80 - 100 LBS</td>
<td>2 2/3 - 3 1/4</td>
</tr>
</tbody>
</table>
View full details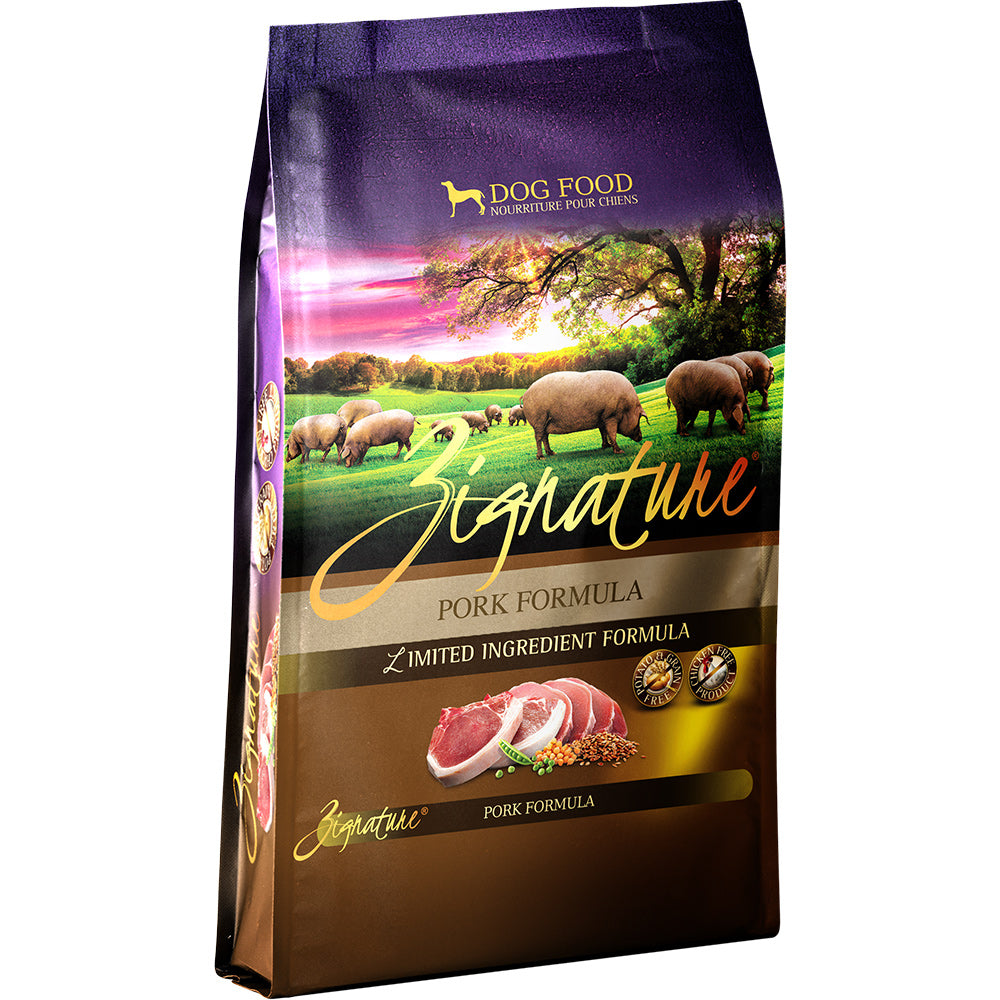 <b>Zignature</b> Limited Ingredient Formula Grain-Free Pork Dry Dog Food